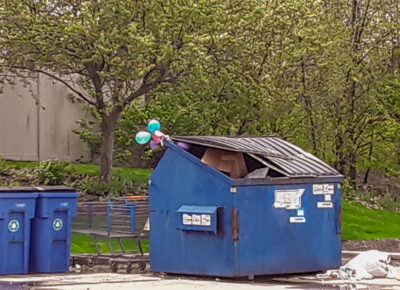 If your company is using one of the national trash vendors, then most likely you have seen these surcharges on your invoices. Many of you likely see them often. These large publicly owned trash companies already have a large market share. Because of this, the easiest way to appease their stockholders is internal growth through price increases, fee increases, and abusive surcharges.
Call us today and let us help you END these abusive surcharges for good!
Overage Surcharges
Another trend many companies are jumping on is over-charging for excessive yardage on pick up days. You may see it on your bill under "overage" or "extra yards". These surcharges (essentially fines) are in place when the container lids do not close. If any trash or cardboard exceeds the top of the container that will not allow the lids to close, many companies are now surcharging your bill up to as much as $250 PER INCIDENT. Not only is this quite unconventional, but it's also extremely abusive.
EcoVida approaches these surcharges a couple ways. If it's happening regularly, we will likely propose a service increase so we can get your service levels to match the volume of material you are generating on site. If it's a one-off situation, rest assured that we have negotiated much more reasonable rates in the event, this scenario arises.
Contamination Surcharges
As with overage charges, companies are pushing back hard on the quality of your recycling by assessing large surcharges for any restricted material that may be in your recycling stream.
We have seen more and more surcharges as time goes by with fines as high as $536 PER INCIDENT. This is something that we can help you fix through proper education.
We understand that the chain of custody of your recycling may fall with many people at your facility. We can successfully assist your company to eliminate these surcharges altogether through our training and on-site laminated signage. Ensuring your staff understands where to put what material is vital to surcharge avoidance.